Bloom is a collection of articles from groups and organisations around the world that are involved in breast cancer support, research, and advocacy. We welcome submissions of articles related to the current theme or to other topics that may be of interest to Bloom's international readership.
The e-newsletter allows individuals who have lived through breast cancer to tell their stories and share their emotional and psychological experiences. It reports on how groups organise programmes to develop breast cancer awareness in their communities and give support to cancer patients.
Bloom is distributed by email free of charge to all Reach to Recovery International members as well as interested groups, organisations, and individuals. To keep informed about RRI news and activities via email, please sign up for our mailing list.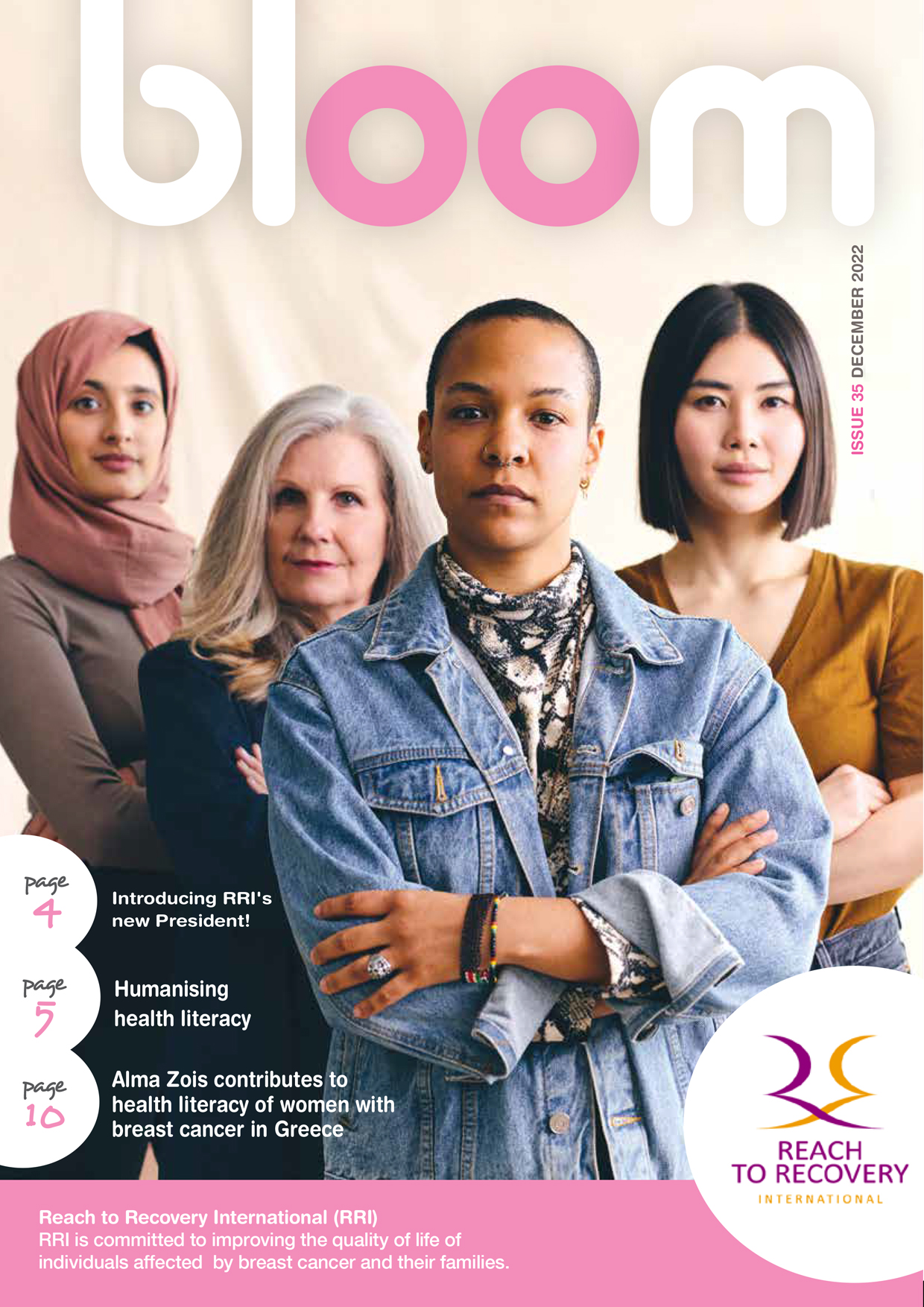 Latest edition of Bloom e-Newsletter
To download and view the latest edition of Bloom e-Newsletter click file below:
RRI Bloom Newsletter Issue 35 - December 2022
Cathy Hirsch

President,
Reach to Recovery International

Ann Steyn

Immediate Past President,
Reach to Recovery International

Ranjit Kaur

Past President
Reach to Recovery International
Jennifer W. Sheng, MD

Medical Oncologist at Sydney Kimmel Comprehensive Cancer Center, Johns Hopkins University School of Medicine
To download and view previous editions of Bloom newsletter click on any of the links below:
RRI Bloom Newsletter Issue 34 - June 2022
RRI Bloom Newsletter Issue 33 - December 2021
RRI Bloom Newsletter Issue 32 - June 2021
RRI Bloom Newsletter Issue 31 - December 2020
RRI Bloom Newsletter Issue 30 - June 2020
RRI Bloom Newsletter Issue 29 - December 2019
RRI Bloom Newsletter Issue 28 - June 2019
RRI Bloom Newsletter Issue 27 – December 2018
RRI Bloom Newsletter Issue 26 – June 2018
RRI Bloom Newsletter Issue 25 – December 2017
RRI Bloom Newsletter Issue 24 – Summer 2017
RRI Bloom Newsletter Issue 23 - December 2016
RRI Bloom Newsletter Issue 22 - March 2015
RRI Bloom Newsletter Issue 21 - August 2014
RRI Bloom Newsletter Issue 20 - May 2014
RRI Bloom Newsletter Issue 19 - March 2014
RRI Bloom Newsletter Issue 18 - Nov 2013
RRI-Bloom-Newsletter-Issue 17_Aug2013
RRI Bloom Newsletter Issue 16 - May 2013
RRI Bloom Newsletter Issue 15 - Feb 2013
RRI Bloom Newsletter Issue 14 - Nov 2012
RRI Bloom Newsletter Issue 13 - Aug 2012
RRI Bloom Newsletter Issue 12 - May 2012
RRI Bloom Newsletter Issue 11 - Feb 2012
RRI Bloom Newsletter Issue 10 - Nov 2011
RRI Bloom Newsletter Issue 09 - Aug 2011
RRI Bloom Newsletter Issue 08 - May 2011
RRI Bloom Newsletter Issue 07 - Feb 2011
RRI Bloom Newsletter Issue 06 - Nov 2010
RRI Bloom Newsletter Issue 05 - Aug 2010
RRI Bloom Newsletter Issue 04 - May 2010
RRI Bloom Newsletter Issue 03 - Feb 2010
RRI Bloom Newsletter Issue 02 - Oct 2009
RRI Bloom Newsletter Issue 01 - May 2009